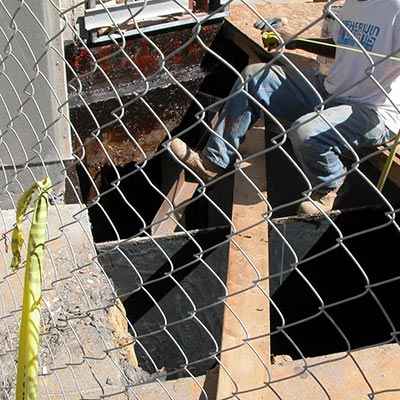 Testing and Inspection in Rockville, MD
EMC2 Inc. is a unique firm that offers design and consulting, as well as material testing and inspection services under one umbrella. With integrated design and construction experience, we are responsive to construction-related problems. There's a reason that, despite being headquartered in Rockville, MD, we're trusted to provide these oversight services across North Bethesda and Potomac, MD and the Eastern Region.
QA/QC and Field Exploration
Quality assurance and control are two of the strongest pillars of any development, and they're vital areas of focus for EMC2 Inc. This, in conjunction with material testing and inspection construction observation services, is part of our comprehensive commitment to development excellence. We offer a wide array of QA/QC and field exploration services.
Testing and Construction Observation
Materials testing takes place in our AASHTO, WACEL and Corps of Engineers certified materials testing laboratory. We test a broad range of materials, including structural steel, concrete (and precast), masonry, soils, asphalt and more.
View Our Services
Non-Destructive Testing
In-situ concrete strength testing
Deep foundation capacity analysis
Auger cast pile integrity testing
Rebar size and location evaluation using scanning equipment
Ground probe radar
Windsor Probe and Swiss Hammer testing
Structural Steel
Structural steel framing inspection
Shop drawing certification
Visual weld inspection
Ultrasonic testing and inspection of welds, magnetic particle and dye penetrant
High strength bolt testing
Anchor rod pullout test
Light gage metal framing
Concrete and Precast Concrete
Slump and air content
Concrete strength test; compression and flexure
Concrete coring for hardened concrete strength evaluation
Rebar placement
Pre-stressed and post-tensioned tendons placement
Precast concrete connection design
Precast concrete erection and rigging
Masonry
Engineered masonry inspection
Mortar/grout cube sampling
Masonry prism strength testing
Soils
Compaction, field Density; sand cone, nuclear gage.
California Bearing Ratio (CBR). Subgrade modulus
Soil classification
Asphalt
Density testing and inspection
Specific gravity
Roller pattern evaluation
Miscellaneous
EIFS system inspection
Roofing and waterproofing inspection
Sprayed fireproofing thickness, cohesion/adhesion and density testing
View Our Services
Geotechnical investigation. soil exploration, borehole drilling and rock core drilling.
Geotechnical evaluation for foundation design, alternate foundation system studies
Design recommendations for retaining walls and other earth retention systems.
Settlement analysis, surface settlement markers and monitoring points, prisms
Piezometer installation and for ground water measurement
Inclinometer for lateral ground movement
Construction recommendations; compaction, subgrade preparation and drainage recommendations.
Static and dynamic load testing and inspection of deep foundations
Pre-construction surveys and documentation
Forensic investigation
Pullout and lateral load testing of roof anchors for window washing equipment
Tieback and anchorage testing