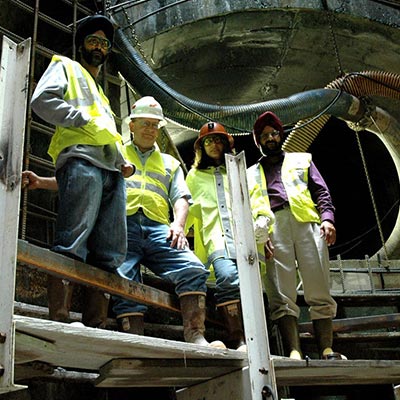 Civil Design & Site Engineering in Rockville, MD
EMC2 Inc. harnesses an expansive civil design and site geotechnical engineering skillset to ensure your next civil or public project is a success. We can perform a broad range of tasks focused on land use planning, as well as site development for commercial and public projects. We operate out of Rockville, MD, working on job sites throughout North Bethesda and Potomac, MD and the Eastern Region.



On-track
We strive to provide a complete array of civil and site engineering services, aligned with the expectations of your project and contingent on the challenges of your jobsite. From site utility mapping and erosion control planning to land use feasibility for projects of all sizes and classifications, we put our best foot forward in keeping your project on-track for success.
Licensed
We're proud of our diverse experience, working with commercial contractors and civil construction firms across the Eastern Region. As a licensed civil engineer, we maintain relevant affiliations with organizations such as ASCE, ACI, AISC, ASFE and PCI, giving you the confidence and peace of mind you need to work with a firm that will ensure the success of your project in its most critical early-stage phases.
The Pinnacle of Civil Design Services
When EMC2 Inc. collaborates on your land-use planning and site development, you'll discover engineering expertise beyond what any other civil engineer can offer. Learn more about how our Rockville, MD-based team can help your firm stay on point throughout your next project. Contact us today at 301-424-8696 for civil design, slope stability analysis, vibration monitoring, and more.